Welcome to UniformsElite.com!

Mesh Safety Vest
SV02
by Port Authority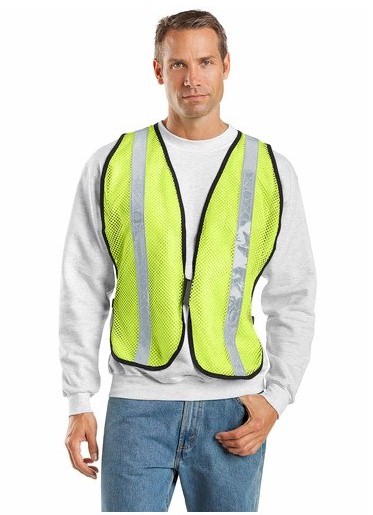 Safety Vest SV02:
Small - 3XLarge - $ 12.98 each

Description: This breathable safety vest has elastic at the sides for an easy fit.
100% polyester mesh for breathability
1.25-in. PVC reflective taping on front and back
Contrast black binding
Front hook and loop closure
Non-ANSI.


Our Safety Vest and Safety T-Shirts are made with High Visibility fabric Reflective Materials. They are designed for safety, comfort and durability.
Safety Vests and Safety T-Shirts come in a variety of sizes. There are plenty of work zone and roadside distractions, which can draw a driver's attention
away from your presence. Reflective high visibility safety vests and shirts improve your ability to be seen by bringing you back into the focus. High visibility
safety apparel is required in many different work environments; Public Safety Vests, Breakaway Vests, Police Vests, drivers, crossing guards, parking attendants,
shipyard, dock workers, airport ground crews, tree service, warehouse, movers, security guards and many other occupations.

If you don't see what you are looking for just ask.
We will be glad to help you. sales@uniformselite.com