We offer Bulk BLACK BOW TIES with a Quantity Discount
for those special occasions, at a discount price to
help meet your formal wear needs.

Mens and Boys
Black Bow Ties
2 1/2" Bow Ties
a. Bag of Banded Bow Ties - 25 count
($3.80 each)
b. Bag of Banded Bow Ties - 50 count
($3.75 each)
c. Bag of Banded Bow Ties - 75 count
($3.65 each)
d. Bag of Banded Bow Ties - 100 count
($3.50 each)
e. Bag of Banded Bow Ties - 250 count +
($3.25 each)
Also available in other sizes...
Click images to view other available sizes: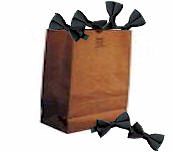 Whether you are looking for a solid Mens BLACK satin bow tie or a BLACK silk bow tie that you tie yourself, you are in the right place. We sell Mens Black Bow Ties at an affordable price with high quality at no extra cost to you. Mens BLACK Bow Ties are a great way to add that special touch to your attire. Affordable coordinating Mens formal wear accessories including suspenders, cummerbunds, vests, and pocket squares are available across the site and most items are made in the USA.
Description: Mens Black Polyester satin pre-tied banded bow tie. This is a banded bow tie which means it has an adjustable strap that goes around the neck and clasps under the tie. The strap adjusts from 12.5 to 23 inches around the neck.
The Boys black bow ties size bow ties measure 2 inches high at the tallest point and 3.5 inches long. The adjustable strap adjusts from 10.5 to 17.5 inches.
Please note that the Mens Black Bow Ties are also available in 1½ inch, 2 and 3 inches high bows. We also offer Boys, Kids, Toddlers Black Bow Ties.